PIPA THEW'S "FAMOUS FIVE" SIGNED PRINT
CAN BE YOURS!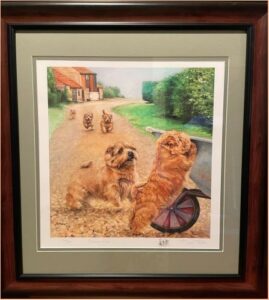 This beautiful Pippa Thew print of Ruth Gee's "Famous Five" which is framed, matted and signed with bonus original artwork can be yours. Make a donation to NTC for a chance to win this beautiful print.
Chances can be purchased using PayPal by completing the form below.
or, if check payment is preferred, checks can be mailed directly to Priscilla Twombly at 68 Hayes Street, Easton, CT 06612
Questions? Contact Priscilla at pgtwombly@aol.com
Selection of the winning ticket will take place at NTC's Mystery Theater Banquet on Saturday, July 1, 2023 in Oklahoma City. You need not be present to win.
Note: If not present, US Shipment Only / Pick up at Montgomery is possible.
PIPA THEW'S "FAMOUS FIVE" SIGNED PRINT
Donation to win PIPA THEW'S "FAMOUS FIVE" SIGNED PRINT